Organisational Performance with Business Agility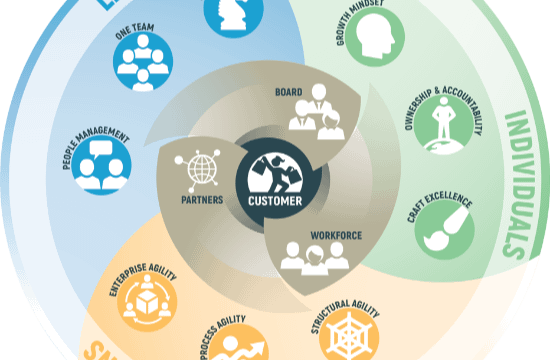 Business Agility Coaching
According to the Business Agility Institute: "Business Agility is a set of organizational capabilities, behaviors, and ways of working that affords your business the freedom, flexibility, and resilience to achieve its purpose. No matter what the future brings."
How can your organisation become resilient, flexible, and have the freedom to achieve its purpose? Perhaps you have already started and need a little nudge. Perhaps you are yet to start and need someone to bounce your ideas off.
With more than 30 years experience, Mick can help you understand where you are now and where you wish to go.
The Business Agility Institute defines 12 interacting domains across four dimensions centred around the customer. The domains in each dimension being equally important, necessary, and interrelated to each other. Realizing business success in an unpredictable market requires a commitment to developing agility in these domains in your organisation.
Learn More about Business Agility Coaching
Want to know more about Business Agility Coaching and how it benefits your organisation? Book a 30 minute call with me and find out more. We can talk through your situation, the issues your organisation is facing, and discuss how I can help.
There is no charge for this call.
Essential Business Agility Concepts
Communication is critical to a team's and organisation's success. 
The ability to effectively communicate affects the efficiency of the organisation and determines how value is created. Organisations must ensure that effective communication channels exist across the organisations, so that  goals and plans are successful.
Some of the most important communication skills skills for organisations include:
Adaptability:

 

The ability to adapt the message and communication style to different situations and audiences in your organisation.
Active listening:

 

The ability to listen to what the employees in the organisation are saying, paying attention to verbal and digital forms of communication. Recognising when the organism has issues.
Transparency:

 

The ability to communicate your company's goals, opportunities, challenges, and strategy in an open and transparent way.
Clarity:

 

The ability to simplify a message by providing the right level of detail for a given audience to motivate them to act.
Inquisitiveness:

 

The ability to ask open-ended questions that spark thoughtful discussion in your leadership and employee teams.
Skills that enable your organisation to use critical thinking to solve complex problems and plan for the future. These skills are essential for accomplishing business objectives, overcoming obstacles, and addressing challenges—particularly if they're projected to take weeks, months, or even years to achieve.
Strategic thinking skills include:
Analytical skills:

 

To ideate a strategy that helps your organization reach its objectives, you must be capable of analyzing a variety of inputs—from

 

financial statements

 

and

 

OKRs, to market conditions, emerging business trends, and internal resource allocation. This initial analysis is crucial to creating a strategy that aligns with the current reality facing your organization.
Communication skills:

 

Putting a strategy into place for your company, regardless of its size, requires solid

 

communication skills. The ability to communicate complex ideas, collaborate with internal and external stakeholders, build consensus, and ensure everyone is aligned and working toward shared goals are all central to strategic thinking.
Problem-solving skills:

 

Strategic planning is often used to solve problems or address challenges, such as missed financial targets, inefficient workflows, an emerging competitor, or global crisis. Implementing a strategy that addresses the central challenge you face requires you to first

 

understand

 

the problem and its potential solutions. From there, you can craft a strategy that moves your organization closer to solving it.
Planning and management skills:

 

Strategy isn't just about thinking of a solution—it involves implementation, too. Once data has been analyzed, the problem is understood, and a solution has been identified, you need strong planning and

 

leadership skills

 

to bring everything together.
Businesses are complex organisms with multiple influences, reporting streams, and dependencies. And yet, when we look at businesses we try to break them down into functions of specialisation. This allows us to scale the organisation in a rational and cost efficient way.
This structure also means we separate all of the interdependent functions into silos and give them their own KPI's. We add cost management to this and collaboration becomes difficult.
If we are to make our organisations more resilient, more adaptable, and keep them fit-for-purpose then we need to build those traits into how we manage our business. 
Deconstructing the silos to make collaboration easier benefits us in speed to market, new idea creation, and more joined up thinking. Aligning our organisation around delivering value makes customers happy, and helps to build engaged teams.
A kaizen culture improves not only the way employees interact with each other, but also the interactions they have with customers and potential clients.
A kaizen culture enables radical organizational transformation by building feedback loops into daily processes. A kaizen culture creates a climate where people can freely:
Creates a climate where people can realise their potential
Give and receive feedback
Support and stretch each other's thinking
Challenge each other with support, and stress-test ideas where appropriate
Engage in development conversations that are short in length, but strong in impact