What people are saying about me!
I am lucky to work with many talented and driven people. As a Coach and Mentor, I have with a diverse selection of people both internally in organisations and external to organisations. Each experience helps me grow, and I hope those experiences help my Coachees and Mentees to also grow. Some of the people I have worked with have kindly provided professional recommendations for the work we have done together. I am happy and proud to share some of their words below.
It's not easy to get just the right balance between job focus, family time, me time, fitness, health and finance in the fast paced world we live in. There are always demands on your most precious asset – time. Coaching sessions with Mick Lavin bring a calm to help you take more control of these pulling forces. He has the listening skills, strategic questioning and ability to uncover key areas for improvement. He helps me to find the answers myself and is also willing to challenge my thinking. He provides various tools and techniques to help. I always look forward to our meetings and he keeps in touch afterwards to ensure I stay on track.
Mick and I meet remotely on a regular basis in which he coaches me in my role as Product Owner. He is an excellent listener and follows this up by asking questions which encourage me to think differently and reflect.
It is great to have his unbiased coaching support.
I cannot be more proud that Mick is my mentor and coach on my way to become Scrum master. He is very experienced in Agile and he is always there to help me to solve any issue or answer any question I have. I have also attended his Happiness training – everyone should experience training like this at least once in a lifetime, helped me a lot.
I am more than happy to have Mick in our team, his combination of senior management experience and coaching experience is invaluable. His coaching work with teams (SMs and POs) is bringing tangible results – they are communicating better, cooperating, able to "go out of their shells", beyond their basic roles.
I also liked his ideas of happiness training, its definitely something what teams need… And – as we are working in multicultural environment – I think his cultural/mentality difference workshop was very usefull for starting to work on our "compactibility".
I am looking forward to see what will be next…, Kudoz… 🙂
I had opportunity to work with Mick on several occasions: as being part of Agile transformation team, co-facilitating "What really matters" workshop and being mentored by him for Leadership program. Mick was teaching by example and encouraging Agile principles and values on all of this occasions. He brought many innovative ideas to center where he took a lead on preparing and delivering different workshops focused on inclusion and coaching. Mick's coaching helped me to overcome different challenges and I was grateful that he had this special insight to notice and then coach when there is space for further development of individual even though one is not aware of it. Thank you Mick for coaching, sharing your knowledge and insights it was pleasure working with you.
I've had several coaching sessions with Mick and it has been always handled in very positive and professional way. He has always been able to guide me to find a proper direction for the obstacles that I've been facing as a Scrum master. He has very good comprehension of agile principles and software development environment in general so I was also benefiting from his mentoring skills. I can really recommend his coaching to anyone as Mick will help you to grow in your career both personally and professionally.
Professional Recommendations on LinkedIn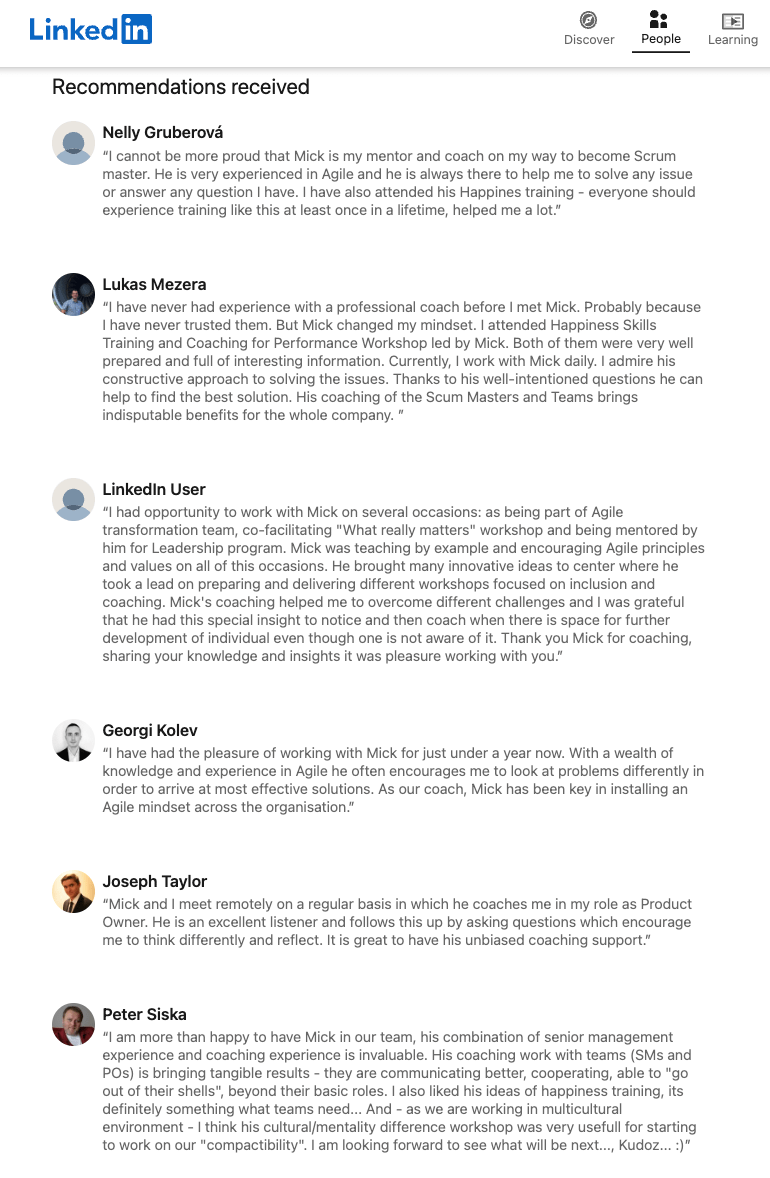 Coach and Mentor – What my clients say